April 11. We started today's levada walk at the Encumeada pass. The first part is a comfortable, wide path.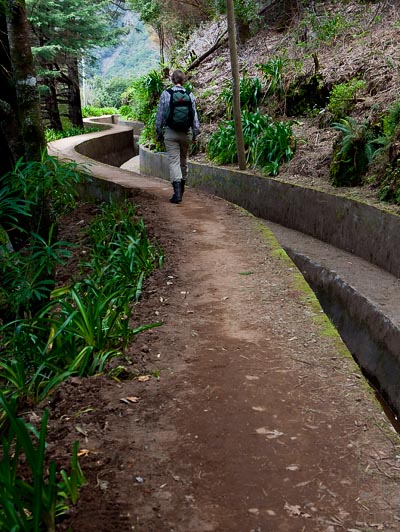 However, a few hundred meters further on, the path is closed with a sign. There have been quite a few landslides that have destroyed the levada and reconstruction work is going on. But it is Saturday and no Levadeiros are at work, so we decide to take the challange and continue along the Levada das Rabaçal that joins the Levada  Norte which we walked to start with.
Being hit in the head with a stone of a fotball's size is probably totally lethal. And yet, it feels like this rock could be even more dangerous. The Levaderio guys have secured the boulder with concrete to stop it from continuing its ravaging tour down to the valley several hundred meters below.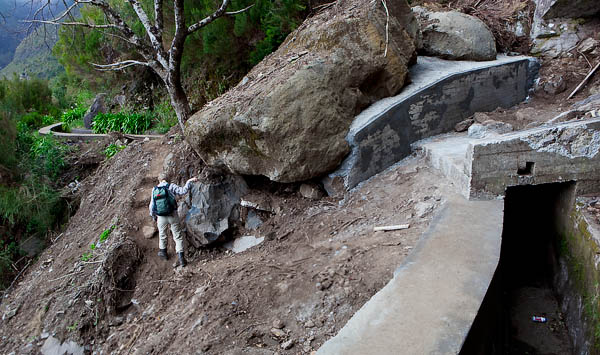 Here the levada is completely demolished by a heavy landslide. The Levadeiros who are reconstructing it have quite a lot of work to do. The wooden construction is a 2.5 meter high mould where they are starting to rebuild the levada section from scratch. The only way to get tools, a cement mixer, a diesel generator and cement here is to use a weelbarrow or just carry it.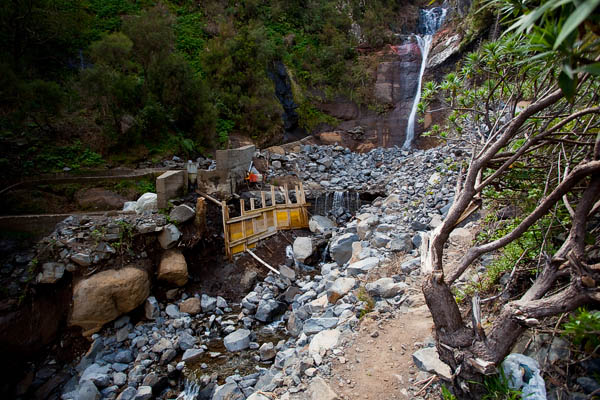 Here is a wider view. To the left you can see the entrance to a 300 meter long tunnel that takes the levada here from the other side of the mountain.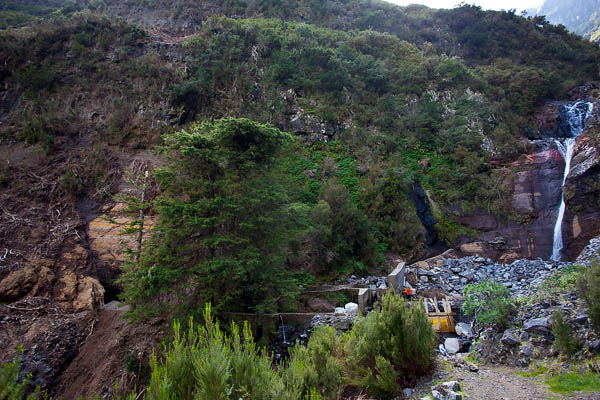 With some effort we managed to pass the landslide area.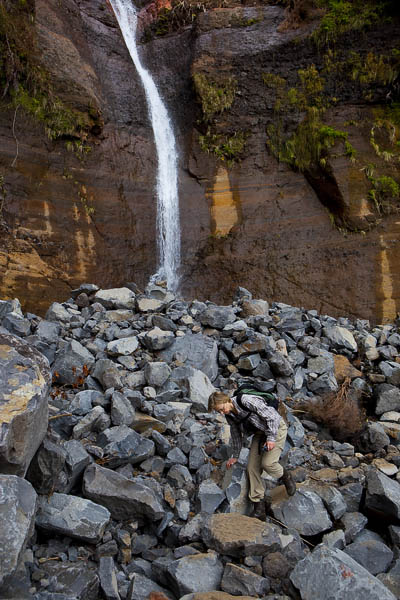 The tunnel from inside. It is often wet in the tunnel, so you need to use suitable shoeware. Keep a cap on to protect your head at least a little from being grazed, the tunnels are often low. And most of all, bring a good torch.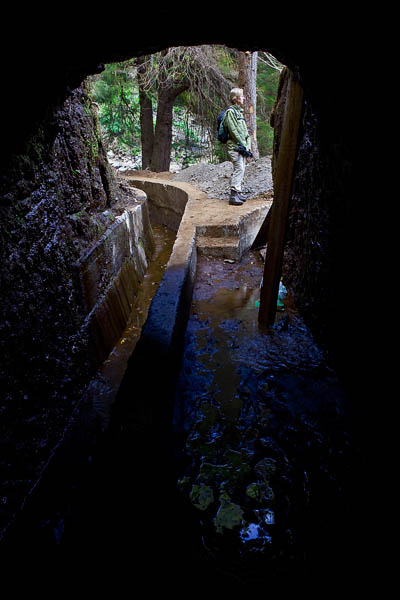 The tunnel from the other side. It is dead straight and if you look closely you can see the other entrance 300 meters away as a small light dot.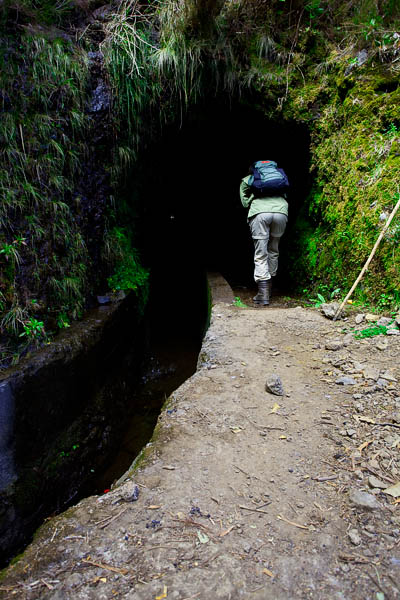 One mistake here and it will take a long time before you stop falling.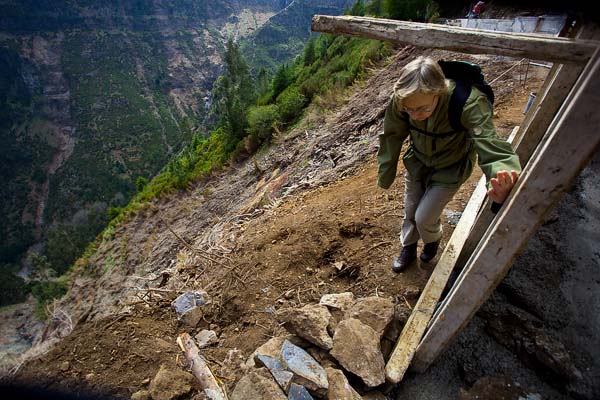 Eventually we can see our goal, the small Levadeiro cottage.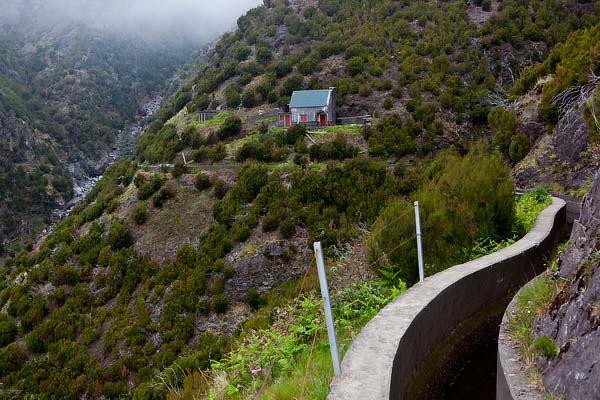 A well deserved break with a stunning view.
After the meal we turned back since the 2 km long tunnel that comes after the cottage was closed.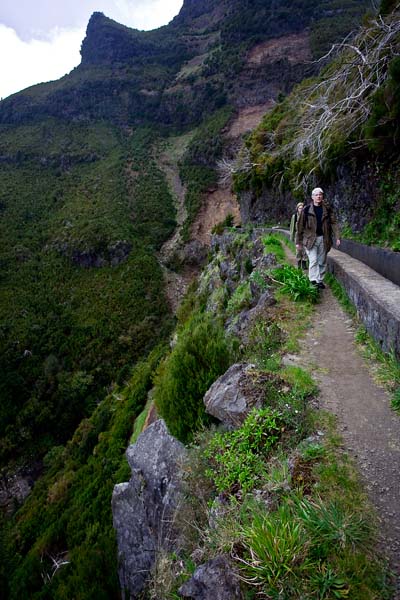 Back at the starting point we take the stairs down from the levada.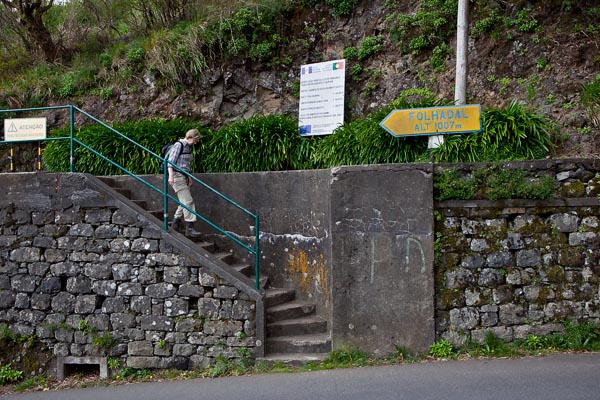 The Madeira roads mostly have good roadsigns to help you reach your goal. This is the crossway at the Encumeada pass. As the crow flies it is 35 km between Porto Moniz and Funchal. If you take the road over the mountains (come to think of it, all Madeira roads go over the mountains) it will be more than twice as long.