April 10. The first day of this Madeira trip was slightly hazy, but the temperature was nice for a walk around Prazeres, where our favourite hotel is situated. Levada Nova runs through the village and we had time for a few kilometres walk along it. Please bear with the abundance of flower photos, they are unavoidable when visiting a flower island such as Madeira. In posts to come there will be other motifs, stunning views and whatnot.
As matter of curiosity, Prazeres means "pleasures" in English. A search on Google gives you a really varying collection of hits.
| | |
| --- | --- |
| | A boy needs his stuff… |
Levada Nova near Prazeres is not the most spectacular of levadas, but it's still worth a walk. Wherever you are on Madeira there is something beautiful to watch. Here you can see the levada as a line along the slope, this foggy afternoon. Can you spot Gunilla walking along it?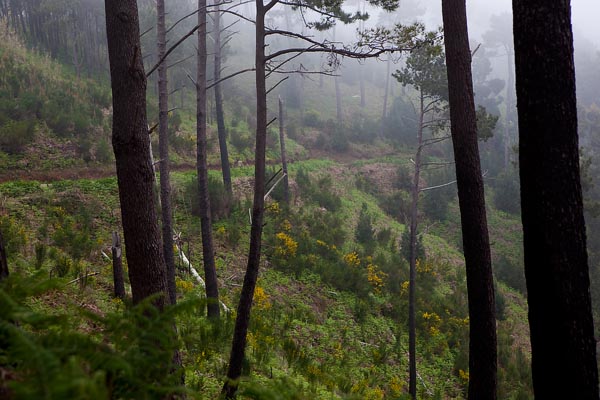 Prazeres is rather high up and today clouds were low. View from Levada Nova.
Someone has planted these flowers along the levada. I have know idea what they are called. They are certainly not in my nordic flora. You can see the levada to the right.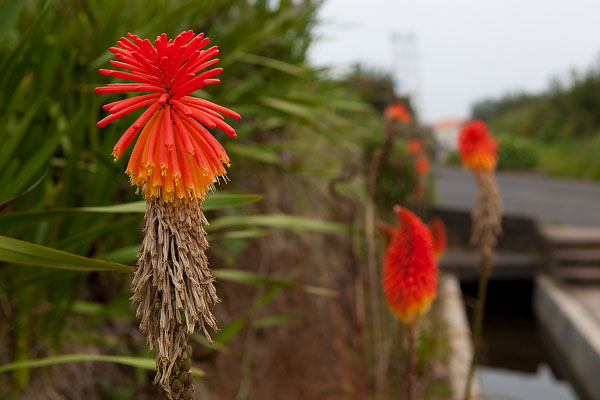 These mysterious objects where at the bottom of the levada. First we thought they were some sort of shells, but they turned out to be the fruits of eucalyptus trees that grow further away.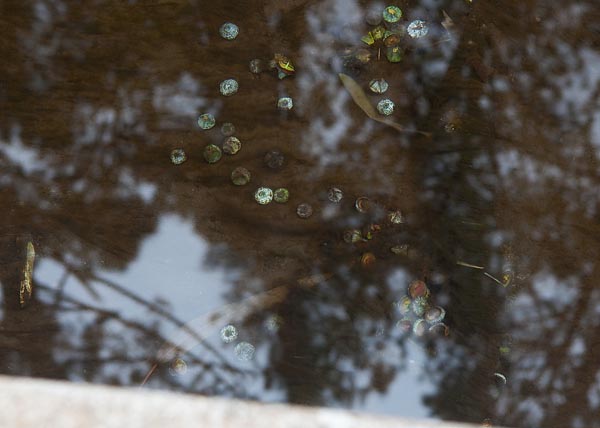 Eucalyptus trees are a rather common sight on Madeira. There is a great concern for the environment on Madeira nowadays, but there are large deforested areas from earlier days. To bind the earth in these areas, eucalyptus trees were planted. Unfortunately, these trees need a lot of water and they don't leave much nutrition left for anything else where they grow. Another problem is that they burn very easily. On both our previous journeys to Madeira we have seen forest fires raging up in the mountains. The eucalyptus trees are slowly being replaced with other vegetation, and deforested areas are being reforested. On our first trip here we participated in a planting day on the barren mountain plateau Paúl da Serra, arranged by our hotel. Both guests and hotel personnel participated, wielding pickaxes to make holes in the stony ground for fresh plants of all kinds (but no eucalyptus), and later to go to an old farmhouse to eat espetadas grilled over open fire. (Espetadas are pieces of meat on laurel sticks, which gives them a superb taste.) On the picture is an area with eucalyptus trees along Levada Nova.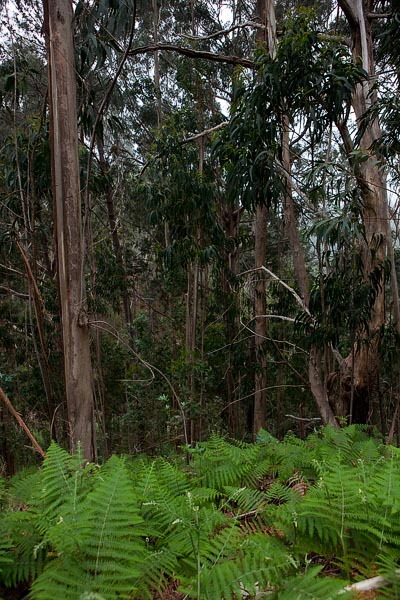 Dried eucalyptus twig with those odd fruits.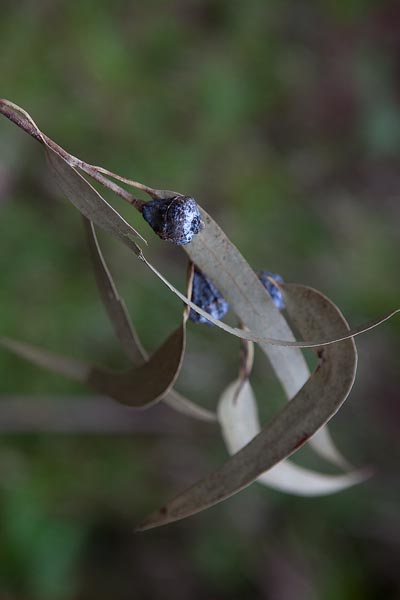 There is a lot to see inside Prazeres as well. Here is a bush that is popular in parks: The bottle brush flower.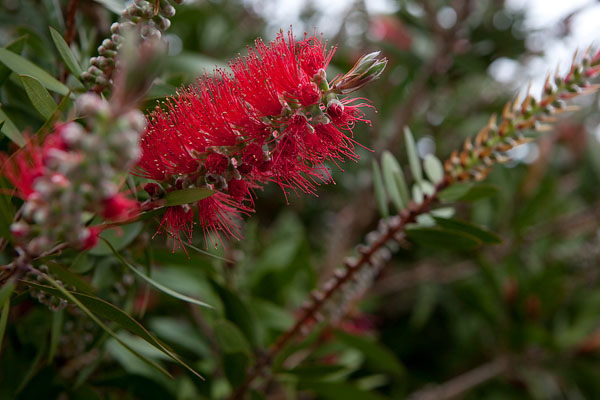 Here it is bristling up.
Red door in the wall.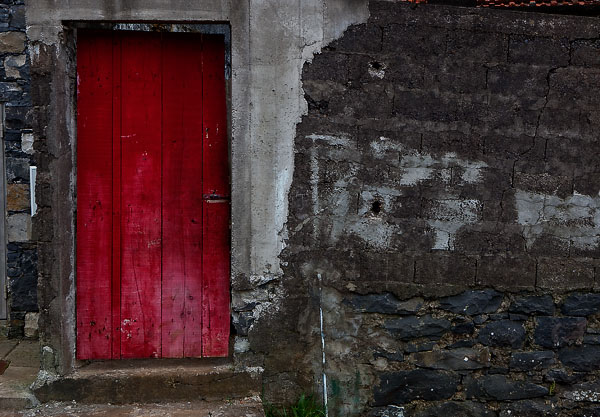 Somewhere in this mass of ivy and other creeper plants an oak tree is hiding…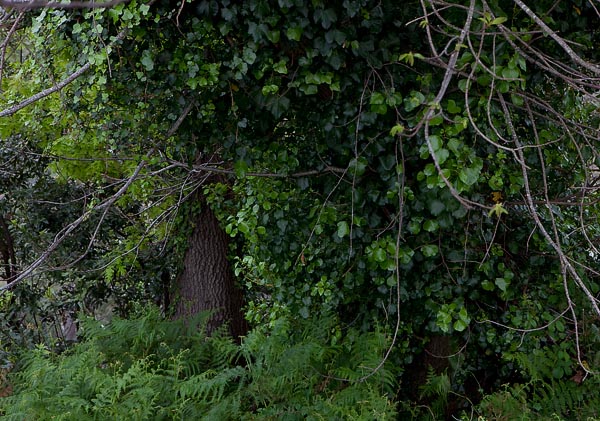 Nice flowers. Does anyone know what they are?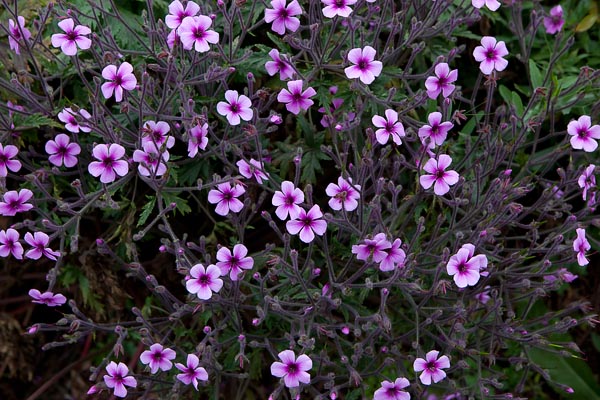 Garden plants make it very well in the wild on Madeira. Here is a pumpkin growing along the road.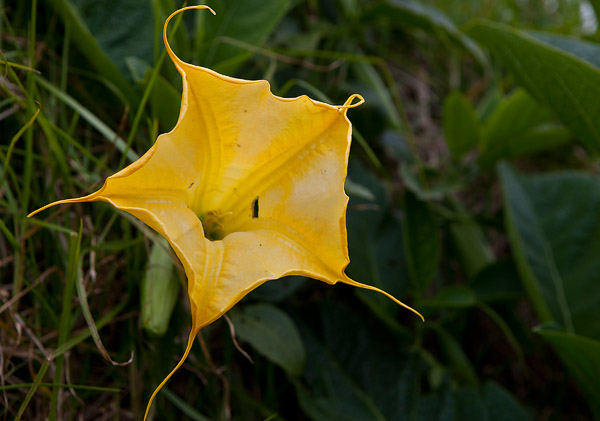 Near the end of our Prazeres walk we found an abandoned garden with an abandoned house, both of which were completely covered with ivy. The ivy was everwhere and the dusk inside the garden gave us a hint of what the hundred year old garden of the Sleeping Beauty could have looked like – provided the beauty herself had come from a somewhat lower social strata. I'm going to get me some cool pictures, I said, and set up the tripod to start shooting. That's when Gunilla discovered that the garden was a hugely popular refuge for people in certain dire need. Once this fact was disclosed, the tripod was hastily folded together and we set off for the hotel to perform sandal maintenance.